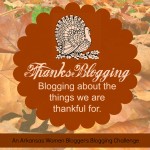 I am participating in Thanks Blogging with
Arkansas Women Bloggers
this week. Today's assignment is to take a picture of something for which I am thankful. Since I had such a great weekend, I decided to use photos from our 5K race, which I edited with
Pixlr
.
The Color Run
in Little Rock was ridiculously awesome. Sis, Little Man, and I carpooled with two of our cousins to Little Rock in the early hours of Saturday morning. A friend was set to babysit so we took Little Man to her house and headed to the race.
It was the first 5K in which I've ever participated and just too much fun for words. We walked, ran, danced, rolled on the ground, and covered ourselves in paint along the way. It was one of the best days I've had with the girls in a long time.
I am so grateful to have them in my life and to be related to people who love me for who I am. I'm thankful for the time we spent together this weekend and for the memories we made. I consider myself one of the luckiest people on the planet.
To see more pics,
CLICK HERE
.