Who doesn't love the inevitable leftovers of Thanksgiving? (Please don't raise your hand. You look silly sitting there all by yourself raising your hand for no one. It's a rhetorical question.) I don't usually appreciate leftovers that dirty all my plastic containers and make my tastebuds sad. But leftovers happen and I try to be creative with them when I can. Occasionally, I'll turn leftover chicken into chicken pasta or leftover ground beef into beefy cheese dip. Sometimes I will take leftovers to work and eat them for lunch because I feel bad for the starving kids in China.
(My grandmom used to tell me that starving kids in China would be grateful to have all the things I don't want to eat. Now I can't seem to throw away food products without feeling like a bad Christian.)
However, I usually don't spend much time getting creative in the kitchen. I enjoy cooking, especially baking, but it just isn't high on my priority list. I cook dinner for my husband almost every night because I want to be a good wife and have a healthy, well-fed husband, even though he refuses to gain any weight. But it's just not realistic for me right now to try new recipes regularly or make meals that actually take much planning. Thus, turkey is not a regular thing around here.
In fact, because we family hop so much during Thanksgiving week and weekend, I don't even cook a Thanksgiving turkey. It's pathetic, but true. I was hoping to have a Thanksgiving gathering at our house this year -- seriously, I have a double oven! -- but things just never go according to plan. We'll likely be traveling and house hopping again. Thank goodness we enjoy traveling!
All the same, I know we will have Thanksgiving leftovers. You see, I am a considerate person *cough* who doesn't mind relieving my family and friends of leftover turkey and dressing and pie and cookies and mashed potatoes when necessary. I feel it's my duty to help where I can. Then I force my sweet and loving husband to eat Thanksgiving-style meals for a week, mostly because I cannot get enough
gravy
turkey. And no, I don't get creative with the leftovers because, in my opinion, Thanksgiving meals are perfect just as they are.
------------------------------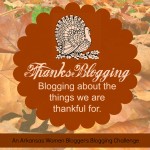 Thank you for reading my blog this week while I participated in Thanks Blogging with
Arkansas Women Bloggers
. It's been FUN. I recommend checking out links to other blogs that participated as well. There are some great writers and creative women out there.
By the way, I did not forget to participate in Day 4 of Thanks Blogging. Click
HERE
to learn more.